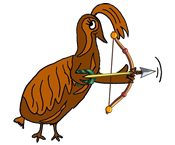 ---
2021 dates added 
Dates: Registration  August 22, & September 26, 2021
Time: Registration 7:00 a.m. – 1:00 p.m.    (each date)
Cost: Adults $15, Seniors $12, Youth $10, Cubs $5 & Crossbow $25
Where: Quail Club 8303 Concordia Church Road, Belleville, IL
This is a realistic bow hunting experience held in the fields and wooded area of the Quail Club.  This hunting experience will include 40 targets in Realistic Hunting Situations. 
ALL PARTICIPANTS MUST WEAR ORANGE
 Rinehart Target attendance prize will be awarded at each bow shoot!
All Shoots will be held regardless of weather
 Rangefinders, Broadheads or Blunt Points are not permitted.
Crossbows are allowed in its own class. 
Plaques awarded in all Classes when there are 5 or more shooters, Classes are as follows
Hunters

Open

Seniors (55 +)

Women

Traditional

Youth (13-17)

Cubs (12 & Under)

Crossbow
Free Biscuit and Gravy, & Soup
Cheeseburgers, Hamburgers, Hot Dogs, French Fries available for purchase, we also have a full service bar
NO ALCOHOL ALLOWED IN HUNTING AREAS
$400 Gift Certificate to Town Hall Archery awarded to
ONE(1) Individual who participates in all FOUR(4) Events
Contacts: Jerry Jenkins (618)792-0073, Matt Jenkins (618)792-7778, TJ Jenkins (618)980-5001, or Quail Club (618)476-1024
DIRECTIONS:  Highway 15 to Frank Scott Parkway, go South on Frank Scott until the 1st 4-way stop (see map below)
(Concordia Church Road) go West (right) 2 miles to the Quail Club (On North Side of the road)